Logo en la página Web del Agricultural Bank of China, la que puede ser la mayor OPV de la historia.
En China el gobierno esta progresivamente privatizando sus bancos, y en los países occidentales se están nacionalizando. Es solo un paso mas en el proceso en que China cada vez es mas capitalista y occidente cada vez mas comunista (subsidios, subvenciones, mayor peso del sector público, intervención pública en muchos sectores, ….)
En pocos días, el 15 de julio, saldrá al mismo tiempo en la bolsa de Hong Kong y en la de Shanghai, el último de los 4 grandes bancos chinos en manos del estado, el Agricultural Bank of China. El importe de esta OPV (Oferta Publica de Venta), o IPO en el mundo anglosajón, estará cerca a la del ICBC chino al situarse aproximadamente en los $23.000 mill., $10.900 en la bolsa de Shanghai, solo para inversores chinos y unos $13.000 en la bolsa de Hong Kong para inversores internacionales. El gobierno chino vende un 14% de las acciones del banco. Este es el calendario previsto según el medio chino www.china.org.cn:
The bank said in its earlier prospectus that it will announce its IPO price on July 7 and start taking subscriptions on July 1. Its A shares are expected to debut on July 15 in Shanghai, while the H shares may debut a day later on July 16 in Hong Kong.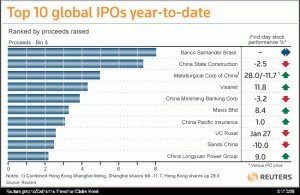 Ranking de las 10 mayores OPV (IPO) globales del 2009 con B.Santander Brasil en primer lugar, (fuente:Reuters).
En octubre 2006 otro banco chino, el Industrial and Commercial Bank of China (ICBC), obtuvo $22.000 mill. en su OPV en la bolsa de Hong Kong.
Hace unos 2 años, en marzo 2008, la archiconocida empresa de tarjetas de crédito VISA salió a bolsa por un valor de $17,9 billones anglosajones, es decir $17.900 mill.
En 1998, la japonesa NTT Mobile alcanzó $19.400 mill. y también está entre las grandes de la historia la OPV de Banco Santander Brasil con $8.900 mill. en 2009.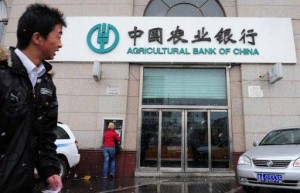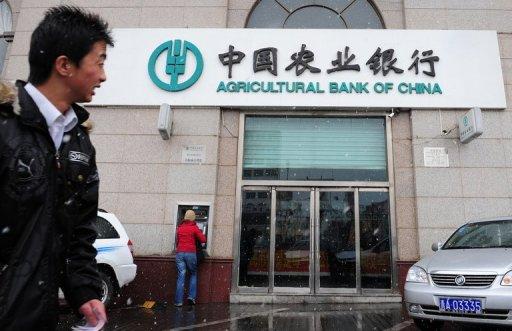 Oficina del Agricultural Bank of China, el tercer mayor banco chino.
El Agricultural Bank of China fue fundado por Mao Zedong en 1950 y es el principal banco de la china rural y agrícola. Según FT, tiene en la actualidad mas clientes, que habitantes en los Estados Unidos y sus activos superan a todo el producto nacional bruto de India. Aquí podéis encontrar los principales números del banco publicados en chinadaily.com.cn. Y estos son los inversores institucionales que han comunicado invierten en las acciones del banco en la OPV:
Qatar Investment Authority plans to buy $2.8 billion worth of ABC's Hong Kong listing, while Kuwait Investment Authority will buy $800 million, the state-run newspaper China Daily reported Thursday.
UK-based bank Standard Chartered is also expected to invest some $500m in the initial public offering.
Other likely investors include Singapore's sovereign wealth fund Temasek Holdings, China Life, Holland's Rabobank and Hong Kong businessman Li Ka Shing.
Australian media and investment company Seven Group Holdings Ltd. said Wednesday it had agreed to invest $250 million in the IPO.
Solo en Europa, el Rabobank holandés y el Standard Chartered inglés, este ultimo quizás uno de los bancos de mayor futuro del mundo, han tenido la capacidad y el interés de invertir en el banco chino.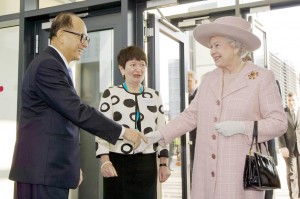 Sir Li Ka Shing con la Reina de Inglaterra en la Universidad de Cambridge.
Y como no podía ser de otra forma, el empresario chino Li Ka Shing, el autentico "padrino" de los negocios en China, que siempre aparece en todas las operaciones importantes, también participa en la operación. Para mas informaciones sobre la OPV, la mejor web es la de chinadaily.com.cn.
La valoración del banco chino por múltiplos de esta OPV sería la siguiente según WSJ:
The range of prices offered by these institutional investors would value AgBank at 1.4 to 1.6 times 2010 book value. That is on par with peer Bank of China Ltd., which is valued at 1.66 times 2010 book value, and at a slight discount to China Construction Bank Corp., valued at 1.93 times, and Industrial & Commercial Bank of China Ltd., valued at 1.97 times.
Claro que si ya no es posible creerse el balance de un banco inglés, norteamericano o español, ¿como podemos creernos el de un banco chino?. El Agric. Bank of China es el tercer mayor banco en tamaño detrás del ICBC y del China Construction Bank.
Mas en http://twitter.com/investorsconund
http://twitter.com/KOALASICAV  en Koala capital Sicav no hemos solicitado acciones del Agricultural Bank of China.