Ventas globales de teléfonos móviles por marcas, en el segundo trimestre 2010 (fuente: Gartner).
Gartner acaba de publicar las estadísticas del segundo trimestre 2010, sobre las ventas en el mundo de teléfonos móviles y de smartphones, clasificados según sus sistemas operativos.
Primero, lo que refleja este informe es que de abril a junio 2010 se vendieron en el mundo 325 millones de teléfonos móviles, un 13,8% superior al mismo trimestre de 2009. De los 325 mill., 61,6 millones fueron "smartphones" un 19%. ¿Y que es un "smartphone"?, pues se entiende como aquel aparato que te permite llamar pero además navegar por Internet, tener servicio de datos-emails y otros servicios. Serian los móviles de ultima generación para entendernos vaya.
Pese al aumento de doble digito de la venta de aparatos, sus precios medios de venta y por tanto sus márgenes han caído sobre lo esperado.
"Although the mobile communication devices market showed double-digit growth this quarter, average selling prices (ASPs) were lower than expected and margins fell," said Carolina Milanesi, research vice president at Gartner. "We attribute the decline in ASPs to a stronger dollar, a depreciating euro, and intense competition that drove price adjustments and changes to the product mix." Manufacturers such as LG and Samsung pursued market share in a low-margin market but this approach proved risky, as shown by LG's decline of 27.8 percent in ASP in the second quarter of 2010.
The second quarter also saw some movement in the top 10 mobile device manufacturer rankings (see Table 1). HTC made its debut in the top 10 worldwide ranking, holding the No. 8 position with 139.1 percent growth year-on-year. This reflects the popularity of its Android portfolio but also a more aggressive branding strategy compared to the same period in 2009. "Crucially, as we predicted, the sudden growth in media tablets, such as the Apple iPad, did not appear to hold back smartphone sales. We believe that most tablet users still feel the need for a truly pocketable, yet highly capable, device for those situations when it's inconvenient to carry a device with a larger form factor," said Ms. Milanesi (Gartner).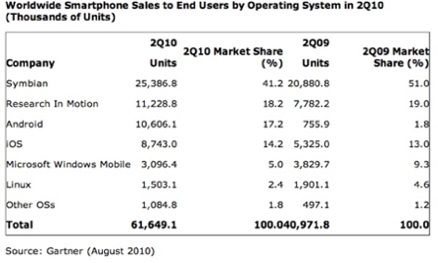 Ventas globales de smartphones por Sistemas Operativos en el segundo trim. 2010 (fuente: Gartner).
HTC ya esta en el TOP 10 por venta de móviles mundiales con cerca del 2% mundial lo que ha arrastrado a que Android de Google, haya superado a Apple con su iOS en su iPhone. Blackberry continua siendo el numero 2 mundial en smartphones y aunque pierde ligeramente algo de cuota, a la espera de un nuevo lanzamiento, ha aumentado ventas mas del 30%. Nokia, con su Symbian ha aumentado ventas pero ha perdido 10 puntos de cuota.
Pero al final de todo no olvidéis algo muy importante, estas estadísticas son solo sobre el numero de terminales o sistemas operativos vendidos, no sobre las ventas o ingresos derivados. No olvidéis que el Android es gratuito, por ejemplo. En términos monetarios Apple es la reina mundial, con un precio medio por Terminal de unos $622, por unos 155 Eur. y bajando, en los smartphones de Nokia  y de solo 64 Euros para sus móviles "normales".
Mas en http://twitter.com/investorsconund