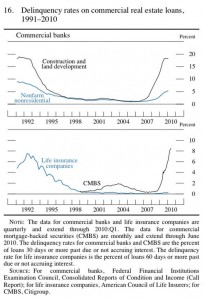 Morosidad en los préstamos hipotecarios del comercial real estate (oficinas, hoteles, restaurantes, granjas,…) (fuente: FED vía businessinsider.com)
Después del reciente post sobre la morosidad hipotecaria en los Estados Unidos, publico hoy la morosidad hipotecaria de lo que los americanos llaman "commercial real estate", es decir cualquier inmueble ligado a un negocio que puede ser oficinas, locales comerciales, restaurantes, Hoteles, granjas, garajes, etc…… Es decir incluye todo lo que no es vivienda. La definición exacta es:
Commercial property includes office buildings, industrial property, medical centers, hotels, malls, retail stores, shopping centers, farm land, multifamily housing buildings, warehouses, and garages. In many states, residential property containing more than a certain number of units qualifies as commercial property for borrowing and tax purposes.
La morosidad en las hipotecas ligadas al terreno y a los que están en construcción es casi del 20%. En cuanto a las titulaciones hipotecarias de "commercial real estate", (en Estados Unidos todo se tituliza), los llamados CMBS (Comercial mortgage-backed securities), su morosidad se esta disparando. A marzo 2010 se situaba ya por encima del 8% y subiendo……..
Mas en http://twitter.com/investorsconund